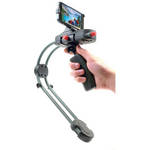 The Steadicam Smoothee With iPhone 5 Mount takes the same technology found on expensive Hollywood Steadicam rigs and shrinks it down to the perfct size for home and vacation use. Simply snap your iPhone 5 into the specially designed mount, grip the handle, and float your camera smoothly and effortlessly through the air. Fly up steps, through crowds, across fields, down sidewalks–wherever your legs can take you. And when you need to catch your breath and set the camera down, the quick-release mount doubles as a tabletop stand or tripod mount.
The lightweight, compact, agile, and easy to use Steadicam Smoothee features an innovative, patented design built around a durable mono-frame metal structure that requires no complicated instructions to use.
Patented quick-release removable mount also serves as a tabletop stand or can be mounted to any tripod with a standard 1/4″-20 camera mount.
Comfortable ergonomic handgrip folds up securely when not in use.