WASHINGTON — Two weeks after House Speaker John Boehner (R-Ohio) dismissed a question about the possibility of the lower chamber's spending bill killing government jobs with the words "so be it," Majority Leader Eric Cantor (R-Va.) offered similar sentiments.
The Republican plan to cut $61 billion from current spending levels would take a heavy toll on employment, destroying 700,000 jobs by 2012, according to an independent economic analysis by Mark Zandi of Moody's Analytics. The study, released on Monday, predicted that the GOP bill would slow economic growth by 0.5 percentage points this year.
In his weekly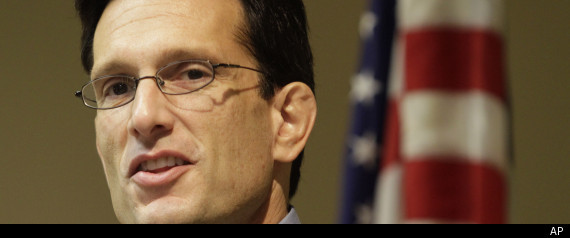 Capitol briefing with reporters, Cantor acknowledged that the Republican stopgap budget bill, known as a continuing resolution or CR, might increase unemployment. But he argued that the government should not be creating jobs if that means creating greater deficits.
"What kind of jobs is he talking about? Is he talking about government jobs? If so, why is the government hiring people it can't afford to pay?" Cantor asked. "This is obviously an unsustainable solution and something we're trying to correct in our CR."
Boehner expressed a similar lack of sympathy on Feb. 15 for government workers who could lose their jobs under the GOP plan. "In the last two years, under President Obama, the federal government has added 200,000 new federal jobs," Boehner said. "If some of those jobs are lost, so be it. We're broke."
House Republicans will move forward this week with a two-week stopgap funding bill that would reduce spending by $4 billion over those 14 days, mostly by targeting items Obama proposed eliminating in his 2012 budget and programs funded through earmarks, which the GOP has vowed to block.
Senate Democrats have indicated willingness to cooperate on the bill, lessening the chance of a government shutdown when the current funding resolution expires on March 4.
But since the short-term continuing resolution will only fund the government for two weeks, it will quickly leave the House and Senate at another impasse. House leaders said they hope to see the Senate pass — or at least vote on — the $61 billion in funding cuts passed through the House earlier this month. But given Senate Democrats' staunch refusal to consider that bill, GOP leaders indicated they may keep passing short-term continuing resolutions to chip away at spending piece by piece.
"If you accept the premise that you can cut $4 billion in two weeks, you keep walking down that path and you can get down to '08 levels over seven months," Rep. Peter Roskam (R-Ill.), who joined Cantor at Monday's briefing, told reporters. "You can do it, you just have to do it a billion at a time."
Like the White House, Cantor said ongoing battles over funding the government would not be "the best way to operate," but he said House leaders will do what they can to avoid a government shutdown.
They are, however, still planning to use the longer-term funding bill to push forward plans to defund Obama's signature health care law and an array of regulatory authorities, despite assurances from the Senate and the White House that such proposals will be dead on arrival. "There are some important policy riders that need to be a part of the longer-term CR," Cantor said.
Conservative members of the House Republican Conference have threatened to oppose funding bills that do not include those riders, but they will be left out of this week's short-term stopgap.