Jeff Bezos' Blue Origin will launch a geostationary satellite for Eutelsat Communications, sometime in 2021 or 2022 ..
Let Space Commerce Commence!
(abstracted from Space.com) The rocket is named "New Glenn " after the first American to orbit Earth. Blue Origin has unveiled plans for two-stage and three-stage versions of New Glenn, both with a reusable first stage and an identical second stage. Each of the rockets will be powered by seven of the company's BE-4 engines (the optional third stage will use a BE-3 engine), burning liquefied natural gas and liquid oxygen. The company also has a contract to sell the BE-4 engines to United Launch Alliance to power its new Vulcan rocket.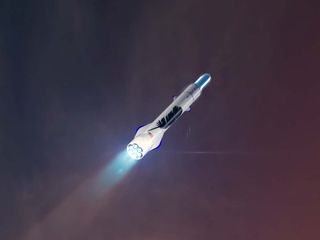 The animated video shows a New Glenn rocket lifting off from what appears to be Launch Complex 36 at Cape Canaveral Air Force Station in Florida, which
the company is leasing
. High above the Earth, the rocket's first stage separates from the payload carrier, which then delivers a satellite into orbit; the first stage then returns to Earth and touches down vertically on a ship's landing pad.