Trump complains that Barack Obama got a Nobel Prize. So why hasn't the Donald won a Nobel Prize for Peace?
The Donald Trump has said several times that he has been nominated, including a false claim that the Prime Minister of Japan nominated Trump  and Kim Jun un for their dialogue and Trump's prideful statements that cliam that North Korea is no longer a nuclear threat .
Mr. Kim, for his part,  calls Mr. Trump "a Dotard" and the US government "a Mafia." Sadly, the evidence that any head of state made such a nomination is dubious.   In February 2018, two Nobel Peace Prize nominations for Trump were deemed forgeries by Norwegian Nobel Committee, the New York Times reported.
Apparently, the Donaols also thinks he ought to have been hinored for peace in Ethiopea.  Last years Nobel laureate, Ethiopian Prime Minister Abiy Ahmed, at 43, is Africa's youngest head of government. After years of war with with neighbouring Eritrea".and revolts in Ethiopea, , Mr. Abiy  came into office in April 2018 , The young man negotiated peace withn his neighbor, introduced massive liberalising reforms to Ethiopia, freed thousands of opposition activists from jail and allowed exiled dissidents to return home.
Ethiopia now has free press! Something Mr. Trump may not understand.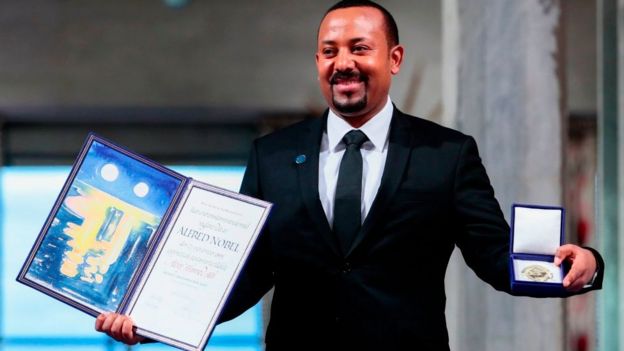 Mr Trump has not officially congratulated Mr. Abiy and, instead, has said he, the Donald,  deserves the Nobel Peace Prize for getting  Kim Jong-un to give up nuclear weapons. Perhaps the Donald will get a Nobel for the assassination of General Solemeini.