It is already April 12 today in Germany.
I am writing this on the 11th of April in Seattle, but it is now April 12 in Germany.  This 12th of April is  70 years after General Patten's ceremonial entry into Buchenwald. The day is being celebrated .. if that term is acceptable .. by some of the survivors as told in this story from the AP and The WORLDPOST (below).   
The  70th entry in my Buchenwald series was three days ago.    For the last year,  the Buchenwald series has been  commemorating events in the history of the camp, about my father's historic role as one of the liberators of the camp, and the dreadful story of the effort by my own family to destroy and denigrate the memory of what Robert saw and photographed.  On April 9, I posted the 70th entry, commemorating the date he and other Americans, acting without orders, entered the camp to give aid.   Robert's pictures with his commentary written on the back of each picture, should be made public. So "71" comes after "70."
Here are the bad people in my story.
HUGH SCHWARTZ   my brother and co-executor of my father's estate. He and his co-executor are keeping the pictures in a safe where they are rotting.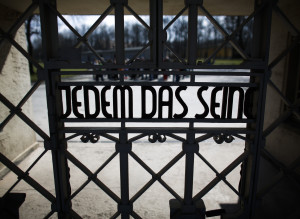 STEPHANIE SCHWARTZ  my sister who refuses to allow publication.
WILLIAM QUICK  Stephanie's husband.  His role has been to try to get my employer to declare me mentally ill and a pervert.
JANET LYNN  Hugh's wife.  She acts as if she were an attorney for this crew even though she has no license o practice law Massachusetts.
MARTIN MIASSERIAN  Hugh's co-executor.  At  one point, Mr. Miasserian  gathered up my father's papers in garbage bags and disposed of them.  This  violation of laws protecting my father's patients may also have destroyed anything Robert had written about the camps after the war.
To understand why I list this cast of characters, you need to understand that the Passover meal mixes bitter herbs with sweet wine.  The Buchenwald story  is especially bitter given its association with Passover.  On Passover Jews traditionally remember the plagues in Egypt.  To do this we spill wine for each plague.  The Haggadah, our prayer book for the Seder, says we spill wine to remember the blood and suffering of the Egyptians who died.
When our children were small, we added another list to our family Haggadah … the concentration camps.  Again, we want to remember suffering, although in this case the suffering never did get to the oppressors.
This year I am adding  names  of my relatives who have tried so hard to see that Robert Schwartz's pictures and writings "rot."  It would be wonderful if they would somehow come to understand the sweetness of sharing Robert's pictures with the survivors before they die.  It would be wonderful if my family would understand the heritage that the comments of these survivors might have for Robert's two granddaughters as they come to each Passover.  And someday are able to pass the heritage on to their own children.
The Story of the 70th Anniversary as told on Huffington Post:
WEIMAR, Germany (AP) — Buchenwald survivor Henry Oster recalls thinking that a fellow inmate had "lost his sense of reality" when he said 70 years ago Saturday that the concentration camp was being liberated, bringing an end to the long ordeal of the 21,000 surviving prisoners.
Oster, 86, visited the site near the German city of Weimar for the first time since its liberation on April 11, 1945 — one of a group of survivors and veterans who came to mark the anniversary of the liberation. Buchenwald was the first major concentration camp entered by American forces at the end of World War II.
"What I see here, where the barracks used to be, at every barrack there was a pile of dead bodies, this is in your memory forever," Oster said. "When someone asks how Buchenwald was, you immediately see the dead bodies again."
Around 250,000 prisoners were held at Buchenwald from its opening in July 1937 to its liberation. An estimated 56,000 people were killed, including political prisoners, people dubbed "asocial" by the Nazis, Soviet prisoners of war, Sinti and Roma, and approximately 11,000 Jews.
Oster, a Jewish German born in Cologne, was taken to the Lodz ghetto in occupied Poland in 1941 and later to the Auschwitz-Birkenau death camp. His father died of starvation and his mother was gassed on the day they arrived at Auschwitz, he said.
In January 1945, Oster was sent on a "death march" to Buchenwald as the Nazis forced inmates westward in the face of advancing Soviet forces.
Entering the former camp through the wrought-iron gate that bears the words "Jedem das Seine" — "To each his own" — with its clock showing 3.15, the time of the liberation, Oster recalled that moment. A minute of silence is planned at that hour Saturday.
"We had no idea the Allies were in Europe, and when we heard noises at about a quarter past three, we looked out of the window — which took a great effort — and one of my friends said with a weak voice 'I think we are getting liberated,'" Oster said. "And we thought he had lost his sense of reality like so many people there."
Oster was taken to an orphanage in France and emigrated to the United States in 1946. He now lives in Woodland Hills, California.
Buchenwald also left an indelible impression on its liberators. James Anderson, a 91-year-old from Indianapolis, went in as an army medic on that day and recalled that many prisoners were so weak they could no longer move.
"The devastation was so tremendous," Anderson said, his voice trembling. "I was a … kid, and to see this it was hard for me to believe this was actually happening, you know, and the prisoners were so glad to see us, they would hug us and everything."
Robert Harmon, then a private serving in Gen. George S. Patton's Third Army, was deployed in Weimar and first saw Buchenwald survivors a few days after the camp's liberation.
"They had these thin pyjama clothes, they had terrible food, you can imagine, and of course the men had not shaven forever, and they just looked awful," said Harmon, from Seattle, who turns 90 on Sunday.
"They were stunned psychologically, they were so afraid of authority that they were very careful about speaking to us, but they were so hungry that they dared, and that was such an act of courage, I think, for them to speak to us," he said.
Patton was so disgusted by Buchenwald that he ordered residents of nearby Weimar to march the few miles up the hill to see what had been going on so close nearby.
"The younger generation should get to see this," Anderson said. "It was unbelievable."