For a second time groups of police officers attending a funeral for Officers Rafael Ramos, left, and Wenjian Liu turned their backs on New York City mayor Bill de Blasio  as he read a eulogy for a fallen officer.
The officers, a smaller group then at the funeral for Officer Ramos, acted despite a request from NYPD commissioner Bill Bratton, that officers not to turn their backs on the mayor once again. He declared "a hero's funeral is about grieving, not grievance".  Pat Lynch, the head of the rank-and-file police union, which is negotiating a contract with the city, turned his back on the mayor at a hospital on the day of the killings and said their was "blood on the steps of City Hall, in the office of the mayor".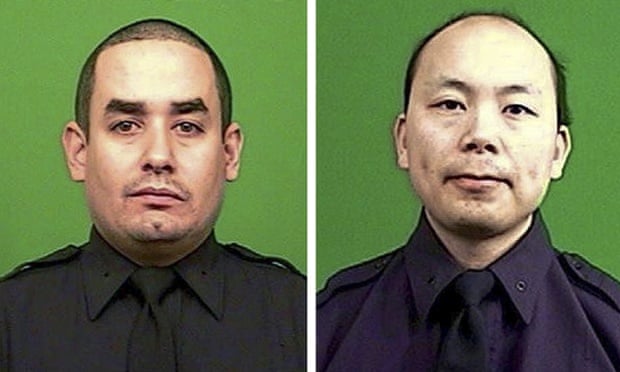 On Sunday, before the funeral, Detective Calvin Laughlin, an African American officer from Piscataway in New Jersey, told the Guardian: "De Blasio is going to be saluted. What he said was true. It needed to be said, and some people took it the wrong way. In every profession there is 1% bad apples – doctors, teachers, police officers. But I've been 20 years in the job and I love to serve."
Detective sergeant Dan Vierra, from Ceres in central California, however, said he would support NYPD officers if they chose to turn their backs on the mayor again. "I don't know what the current situation here is," he said, "it's not our fight, but we do represent the brotherhood of law enforcement and if they feel strongly enough in their plight against the mayor we would have to agree with them because they're in the same uniform we're in."
He had brought five officers with him to the funeral.