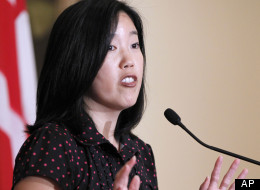 By
WASHINGTON — In a surprising reversal, Change.org, the progressive online powerhouse that channels grassroots energy into
petition-based activism, has dropped two anti-union clients, including Michelle Rhee's StudentsFirst, according to multiple sources familiar with the decision.
The move comes after intense pressure from the labor movement and other progressive allies, who accused the for-profit company of betraying its liberal roots by partnering with Rhee, the former head of Washington, D.C., public schools, and the similarly aligned group Stand for Children headed by education advocate Jonah Edelman. The ouster of StudentsFirst and Stand for Children was confirmed by a Change.org spokesman.
Leaders of Rhee's group were outraged. "We're surprised at their decision," Nancy Zuckerbrod, spokeswoman for StudentsFirst, told HuffPost. "When we spoke to them this afternoon, they couldn't point to a single one of our petitions on their site that violated either the terms of use or spirit of their organization. Not a single one. In fact, they said they agreed that much of the work of our members were in line with the progressive values of the organization. And it's clear that the Change.org community does as well, as tens of thousands of them signed our petitions fighting for the civil rights of all children to receive a high-quality education. For instance, more than 47,000 people signed our petition in support of the Dream Act, compared to fewer than 4,000 who signed the heavily organized protest petition on a different site against Stand for Children."
Change.org's meteoric rise has included a host of glowing profiles and the Time magazine stamp of approval when it named CEO and founder Ben Rattray one of the 100 most influential people in the world. It is staffed by some of the most talented progressive organizers in the country — many of whom are well known and liked in the tight-knit liberal community, making the feud that much more bitter. And Edelman is the son of liberal champions Marian Wright Edelman and Peter Edelman.
StudentsFirst and Stand for Children oppose teachers unions as obstacles to education reform, and advocate on behalf of tying teacher pay to test scores and other student metrics. Change.org started working with Rhee's Students First in March 2011, five months after her resignation as Washington's public schools chancellor, and with Jonah Edelman's Stand for Children in October 2011.
Rhee's group, aware of its reputation as an enemy of organized labor, has consistently avoided activism around union issues on Change.org's platform, focusing instead on immigration reform, anti-bullying, and other issues that resonate with progressives and don't alienate labor. Labor officials and other Washington-based liberal activists have, over the course of the last year, been publicly and privately pressing Change.org to draw a line that refuses business from anti-union groups, just as it currently rejects business from organizations with an anti-immigrant or anti-gay bias. They made little progress until Stand for Children launched an anti-union petition.
It was Change.org's recent controversial petition, criticizing the Chicago Teachers' Union vote two weeks ago to authorize a strike in the fall, that set off the current firestorm of protest. The letter, sent to the Chicago Board of Education and CTU President Karen Lewis, was authored by the Illinois chapter of Stand for Children:
400,000 Chicago students could be locked out of Chicago classrooms because contract negotiations are starting to break down, causing a premature strike-authorization vote to occur before anyone knows what is in the contract proposal. We strongly call for all parties to bargain in good faith to reach a new agreement. Don't hold our students hostage in a negotiation where they have no voice!