TV channel head quits after revolutionising Middle East broadcasting for past eight years, especially during Arab Spring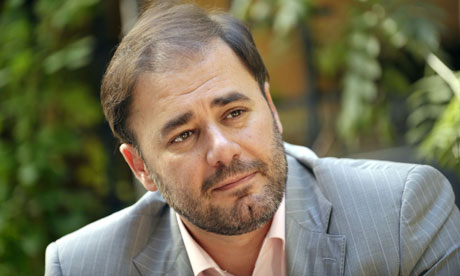 Wadah Khanfar, director general of the al-Jazeera network
Qatar's government has replaced Wadah Khanfar, the director-general of the al-Jazeera satellite TV network, with a member of its own royal family – a sudden and dramatic move at a time of unprecedented turmoil across the Middle East.
This is frightening,   
AJ has become my news staple, the best source for fair coverage and in depth coverage .. not only in the "Arab" or "Muslim" world, but even here in the US.  Under Khanfar, AJ spent a lot of money on real reporters and brought a very diver set of discussants to the table form China to Manhattan. 
I always worried about the tie to Qatar, especially after a friend there told me of the xtent of local censorship, Aljazzzera somehow seemd to have achieved an independence from the regime.  Something we no longer see in America's corporatist media. 
I will, along with a lot of others hungry of real news, watch and hope that this nis temporary move, reflecting something trivial like salary rather than free speech.
Khanfar, credited with revolutionising the Arab media landscape, announced that he was resigning after eight years that consolidated both the channel's reputation and his position as one of the most powerful figures in the region.
The new director-general is said to be Sheikh Ahmed bin Jassim Al Thani, an executive at Qatargas and a member of the country's ruling dynasty.
The Palestinian-born journalist said in a resignation letter posted – characteristically – on Twitter that his goal at the outset was "to establish al-Jazeera as a global media leader" and that "this target has been met".
Al-Jazeera, based in the Qatari capital Doha and owned by the state's emir, broke the mould of Arabic media organisations that were bankrolled by and subservient to governments or cowed by censors when it was set up in 1996.
Often technically brilliant and highly partisan, it has outperformed itself in this year of the Arab uprisings with the slogan – cleverly echoing the battle cry of revolutionary struggles – that "the coverage continues".
Khanfar wrote: "In 2011 the eyes of the world watched the aspirations of millions unfold as our newsrooms broadcast, tweeted and published the events unfolding in the Liberation Squares from Sidi Bouzid to Jisr Al-Shughur. The coverage of these revolutions is ongoing, and we continue to report the fight of the youth to achieve dignity and freedom from tyranny and dictatorship."
Confident, charming and articulate in English as well as his native Arabic, Khanfar has been criticised by some Arab commentators who say his sympathy for the Muslim Brotherhood shows in often favourable coverage of Islamist movements. In Libya, for example, al-Jazeera has been giving air time to a prominent Islamist who had been in exile in Qatar.
The PLO was upset by the leak to al-Jazeera of documents exposing details of secret negotiations with Israel. It is often attacked for failing to be impartial.
Recently, al-Jazeera has been accused of pulling its punches over the uprising in the Gulf state of Bahrain. It barely reports on events in Qatar itself.
But as Blake Hounshell of Foreign Policy magazine tweeted: "Whatever you think of Al Jazeera's coverage, there's no question @khanfarw [Khanfar] put the network on the global map. Big time."
Khanfar's letter was clearly written with a view to fixing his legacy: "Authoritarian regimes were terrified at the birth of this new institution and they quickly went on the offensive," he wrote.
"From trying to discredit our reportage and staff through disinformation to lodging official protests with the Qatari government. When this did not stop our reporting, they started harassing our correspondents, detaining our staff and closing our offices. The only way they could stop us was by jamming our satellite signal.
"Yet we remained steadfast in our editorial policy – in fact, each attempt to silence us further emboldened us and increased our resolve."