Michael Medved (KTTH m-f, 12-3p) and Dave Boze (KTTH m-f, 3-4p) lectured listeners today about Moslem terrorists who would slaughter your children.
Medved jumped to his favorite conclusion today, saying the attacks in Oslo were assuredly from jihadists. Boze says Norweigans (with whom he's quite familiar- coming, as he does, from Stanwood WA) are naïve
• Seven dead, two wounded, in bomb blast in Oslo
• 'Police officer' opens fire at political youth camp on Utoya
• Prime Minister had been due to attend rally there but pulled out
• Broadcaster TV2 sealed off because of suspicious package
19.06 Jane Owen, the British Ambassador to Norway, tells the BBC that the prime minister's whereabouts are not being released, but he is safe. The embassy is trying to establish whether there are any Brits in need of assistance. She said she felt the blast but her residence is about two or three miles from Oslo.
As far as I know there was no additional warning or rise in the threat level, but Norway, like the UK, has to be constantly vigiliant against terrorism.
19.00 London-based Exclusive Analysis risk consultancy said the man in the Utoya incident apparently infiltrated the party gathering on the pretence that he had been sent by police as a security measure in the wake of the Oslo explosion.
As such, it is likely he was ethnically Norwegian. This could indicate the involvement of a far-right group rather than an Islamist group, though it is also the case that the Labour Party would be a favourable target for Islamist groups due to its role in authorising Norwegian military deployments in Afghanistan.
18.56 Rune Håkonsen, Tweets that the shooter at Utoya tried to lure the youths to him before he began shooting. Courtesy of Radio P1 speaking to eyewitnesses. He also says TV2 is reporting that the arrested man called the police before the arrest.
Oslo Bombing: Massive Blast Hits Norway Government Headquarters, Prime Minister's Office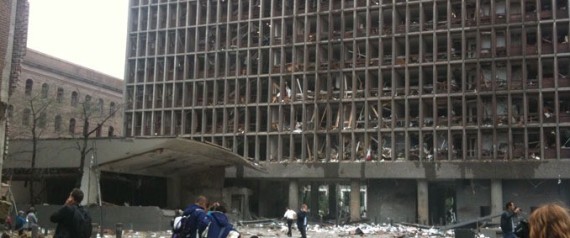 THE CANADIAN PRESS — OSLO – A loud explosion shattered windows Friday at the government headquarters in Oslo which includes the prime minister's office, injuring several people.
Prime Minister Jens Stoltenberg is safe, government spokeswoman Camilla Ryste told The Associated Press. There was no immediate word on the cause of the blast.
Translation from Aftenposten:
Liv Signe confirmed to Aftenposten.no that all Q-ministers are in good condition.It is also confirmed from Statsminsiterens office that the entire political leadership should be undamaged.